Custom drum service
In addition to our drums and drum parts, we also offer various drum services.
We restore, repair, customize drum sets and snare drums and even build complete custom drums or snares.
Bearing edges
The bearing edges on the shell have a great influence on the sound of your drum.
We can repair, adjust or even cut completely new bearing edges.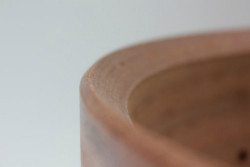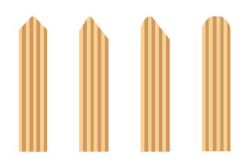 The bearing edges are standard cut in 45 °, 30 ° or round.
But you decide how you want them to be cut;
- counter-cut
- in- outside different angle
- rounded
- 15°, 30°, 45°, 65°
- ...
In short, everything is possible.
Snare bed
The snare bed determines the contact of the snare wires with the resonance drum head.
We can deepen, flatten, widen or even make completely new snare bed.
Shortening of shells / conversion to bass drum
Shells can be shortened to the desired depth. After this, if necessary, the holes for the lugs are also measured and drilled, bearing edges are re-cut.
The conversion of a floor tom to bass drum or vice versa is also possible.
Finish: wrap, oil, lacquer.
Drum wrap
We can re-wrap an already wrapped drum or wrap a lacquered or "naked" drum shells.
By using different types of wrap, we are able to fully wrap a drum without damaging the original paint or wood.
Therefore you can unwrap the drum again and restore the drum to its original state.
Wrapping in wood veneer is also possible.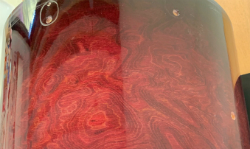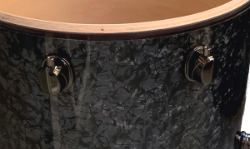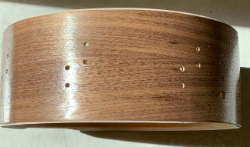 Oil
To oil a shell, the shell must be completely blank, free of grease and dust. We use a hard wax oil based on linseed. The big advantage is that the oil protects and colors the wood in one single layer. It is also easy to restore damage without any color differences or having to sand the entire drum shell.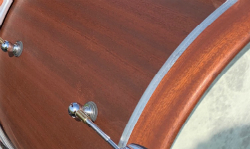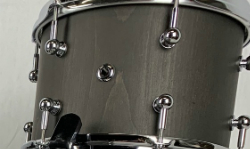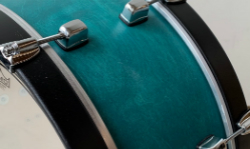 Lacquer
The drum shells can be lacquered in different variations of gloss; matte, semi-matte and glossy.
In addition any RAL-color can be added to give your drum set an unique color.
Old lacquered shells are sanded and provided with several new layers so none of the old color is visible anymore.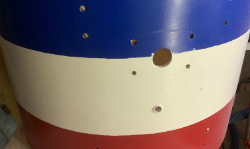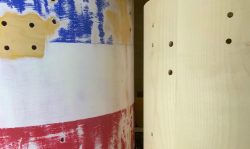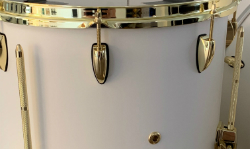 Hardware color
Give your drum set a personal touch by coating your hardware in a unique color.
All RALcolors are available as well as various glossy transparent colors with or without glittering flakes.
We can do any metal parts; lugs, strainer, cymbal stands, hoops, .... .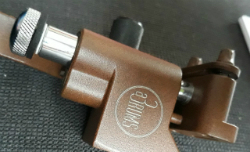 Custom drum shells
Do you want a specific drum shell, fully adapted to your wishes? We build it !!!
You choose what type of wood or combination of woods you want; the number of plies, orientation of the wood depth,...
Almost any type of wood is available: maple, birch, wengé, bubinga, padouk, oak, chestnut, ash, beech, bamboo, mahogany, sassofrasso, poplar, walnut, ....
Some examples of custom made shells:
Chestnut with bubinga core - Bubinga mahogany shell - bamboo birch shell
Custom drums / snare drum
We build custom drums and snare drums to your demands as a drummer; shell size, finish, hardware, color, wood type, acrylic or metal. .. We build them for you.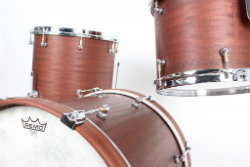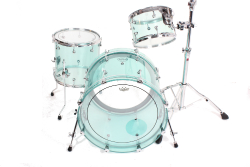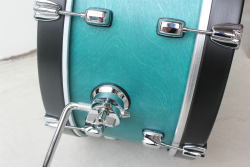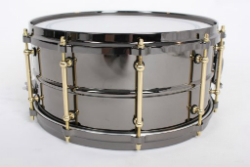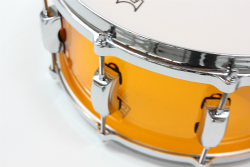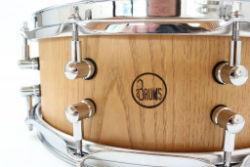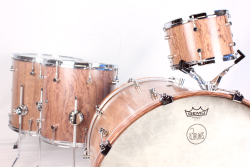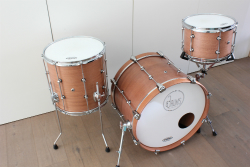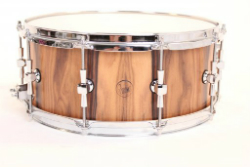 Please contact us for your personal offer: info@a3drums.eu